News
May 2019
Reasons to Outsource
Flexibility (No/Low fixed costs)
Higher volumes can be achieved & synergy created with other clients of the 3PL in an outsourcing solution. Scalibility means costs go down & service levels go up
Specialized warehouses & logistics system (large capital investment) are required
Insufficient expertise on local supply chain market available
Back office services offered by the service provider
Ref: NDL
February 2019
Prolimax Target Market
Prolimax market geography is Europe Middle East and Africa (EMEA), with some incremental business in Asia Pacific & Japan (APJ) & the domestic market.
Supporting Non EU Appliance & Storage manufacturers expanding into the EMEA territory for:
– Distribution
– System Integration
– Manufacturing
– Product returns
– European product repair
– Demo & Loan
We offer a "one stop shop" for all IT hardware needs. Our service offering is ideally suited to meet the requirements of North American companies that are now targeting growth via expansion to EMEA region, using outsourced partner capabilities.
Through our own partnership approach we offer extended service elements such as VAT management, WEEE legislative compliance, export/import compliance to ease the burden of market entry for our target clients to the EU region. Through Prolimax service offering and infrastructure capability, our Customers benefit from a flexible, focused and efficient process and expertise that provides a ready to go solution for product and service delivery in EMEA for forward and reverse supply chain requirements.
December 2018
Customer feedback – 4 Gb/sec FC HBA is the fastest FC card for PCI-X based Alpha servers
The Nemonix NX-FCA2684 ships in single port (NX-FCA2684-1C) and dual port (NX-FCA2684-2C) configurations. Both cards operate at 4 Gb/sec. The HBA is based on the Emulex® LP11000 and LP1100, with custom firmware developed by Nemonix for compatibility with the OpenVMS operating system. The adapters are designed to use a common code stream which enables use of the standard OpenVMS driver and machine console code.
Customer feedback:
"with THE SAME CPU utilization, we have 15% gain on all database reads and even more impressive 19% gain on database write transactions."
Specification Sheet:

November 2018
Is your data safe?
Prolimax provides IT asset disposition (ITAD) service enabling our clients to dispose of obsolete or redundant equipment in a safe and ecologically responsible manner. As part of our service we deploy Blancco Data Erasure software.
By utilising Blancco software, we ensure all data from your IT Assets are securely and completely destroyed prior to remarketing or recycling. Data erased by Blancco is permanently deleted and cannot be recovered.
Contact: info@prolimax.com
August 2018
Interalia Combines USB and Network Controlled iProMOH units into one Platform
Calgary, Alberta, Canada – August 22, 2018 – Interalia's all new dual channel iProMOH-V5TM provides Music on Hold and Instore music and messaging to enhance customer experience. It combines the features of the existing USB controlled iProMOH SU and the network controlled iProMOH iMCM/V4 into one unit. It is a single platform that provides a perfect solution for a small dynamic company which utilizes Music on Hold content to illustrate its business focus as well as a large enterprise that needs to manage continually changing content for hundreds of locations to reinforce its brand.
In addition, all new to the iProMOH is its ability to receive a web radio stream to be used as music background and it can also output RTP audio streams.
Since the iProMOH is compatible with both analog and digital audio technology, you don't have to worry about changing units if you change your telecom infrastructure.
Prolimax – Interalia Partner
March 2018
Prolimax Services EMEA
Are you expanding your business in EMEA?
Do you need VAT advice?
Do you need test/distribution services?
Do you need to be close to your customers?
Do you need fiscal representation?
If the answer is YES to some or all of the above questions, then contact Prolimax:
info@Prolimax.com
January 2018
Prolimax Activities 2018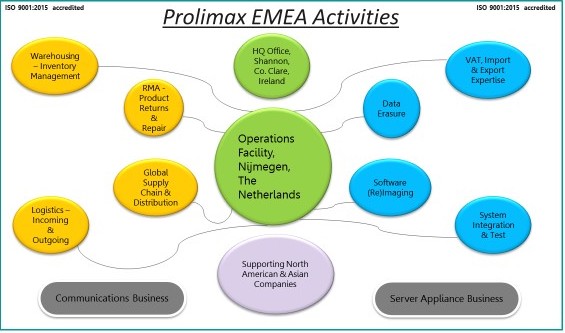 November 2017
Prolimax achieves the Quality Management System standard ISO 9001:2015
Prolimax has been awarded the ISO 9001:2015 standard after a very successful audit at our offices in Shannon, Ireland and operations facility in Nijmegen, The Netherlands.
The audit evidence showed that the company's Quality Management System meets the requirements of this International Standard. The audit was conducted by an assessment team from Business Quality Assurance International Ltd (BQAI).
Positive findings included – excellent customer planning, excellent client market analysis, risk identification, operational reporting & related controls.
August 2017
IBC2017 Amsterdam
Prolimax will be attending the exhibition on Friday 15th September. If you are interested in discussing how we can support your Supply Chain activities in EMEA, please contact us.
The IBC Exhibition covers fifteen halls across the RAI and hosts over 1,700 exhibitors spanning the creation, management and delivery of electronic and media entertainment. Integral to your IBC Experience are a number of specially curated Feature Areas and events. These are hosted throughout the IBC Exhibition and tie into the IBC Conference to enrich your understanding of technologies and trends that are driving the industry.
June 2017
EMEA Inventory Management, Movement and Control
Prolimax offers a complete range of services for EU and non-EU based companies:
Secure & competitively priced warehousing options in Nijmegen, the Netherlands
Customer order fulfilment processes
Product procurement
Assembly and System Integration/Configuration (CTO)
Testing (per customer specification) & software imaging
Processes and controls per our customer standards
Full shop floor control and tracking
Experienced technical staff
VAT expertise
Import & export compliance management
End of Life (EOL) product solutions