News
March 2018
Prolimax Services EMEA
Are you expanding your business in EMEA?
Do you need VAT advice?
Do you need test/distribution services?
Do you need to be close to your customers?
Do you need fiscal representation?
If the answer is YES to some or all of the above questions, then contact Prolimax:
info@Prolimax.com
January 2018
Prolimax Activities 2018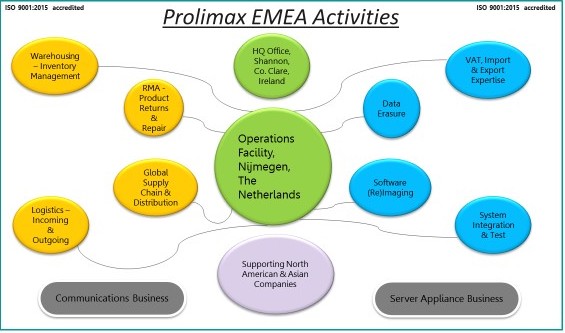 November 2017
Prolimax achieves the Quality Management System standard ISO 9001:2015
Prolimax has been awarded the ISO 9001:2015 standard after a very successful audit at our offices in Shannon, Ireland and operations facility in Nijmegen, The Netherlands.
The audit evidence showed that the company's Quality Management System meets the requirements of this International Standard. The audit was conducted by an assessment team from Business Quality Assurance International Ltd (BQAI).
Positive findings included – excellent customer planning, excellent client market analysis, risk identification, operational reporting & related controls.
August 2017
IBC2017 Amsterdam
Prolimax will be attending the exhibition on Friday 15th September. If you are interested in discussing how we can support your Supply Chain activities in EMEA, please contact us.
The IBC Exhibition covers fifteen halls across the RAI and hosts over 1,700 exhibitors spanning the creation, management and delivery of electronic and media entertainment. Integral to your IBC Experience are a number of specially curated Feature Areas and events. These are hosted throughout the IBC Exhibition and tie into the IBC Conference to enrich your understanding of technologies and trends that are driving the industry.
June 2017
EMEA Inventory Management, Movement and Control
Prolimax offers a complete range of services for EU and non-EU based companies:
Secure & competitively priced warehousing options in Nijmegen, the Netherlands
Customer order fulfilment processes
Product procurement
Assembly and System Integration/Configuration (CTO)
Testing (per customer specification) & software imaging
Processes and controls per our customer standards
Full shop floor control and tracking
Experienced technical staff
VAT expertise
Import & export compliance management
End of Life (EOL) product solutions
May 2017
European Support Services
Local solutions for global requirements
Today more and more IT companies offer their products on a global scale. This does however increase the need  for local capabilities even more, driven by service and support and also by customer requirements and simply by demand for your product.
Proximity to market is a key issue in today's business environment.
To face these challenges companies require local and flexible supply chain solutions to help them serve local customers. Prolimax, with locations in Ireland and The Netherlands – your gateway to Europe – is the first step to setting up a European presence.
We tailor our solutions to best suit your needs. Our focus is to deliver flexible, cost efficient processes to meet all your objectives, local and global. You get the same high quality customer focus and support locally. Prolimax focuses heavily on customer commitment and sets very high standards in meeting our clients' objectives. We deliver excellent quality processes and we are ISO accredited.
Our core solutions are structured as follows:
Project Management  (Fiscal structure, Commercial, Import / Export, –>)
Supply Chain (Manufacturing, System integration, Refurbishment, Distribution, –> )
Asset Management  (Reverse logistics, RMA, EOL support, –>)
Hardware Sale (Systems, Options, Spares, –>)
email: info@prolimax.com
February 2017
EU Business – Enterprise
The EU aims to make EU industry and business more competitive and to promote job creation and economic growth by creating a business-friendly environment, particularly for small businesses and the manufacturing industry.
Industry is key to economic recovery
Industrial competitiveness, innovation and entrepreneurship are the keys to Europe's economic recovery.
With globalisation and stronger competition from emerging countries, Europe's long-term economic prosperity will depend on the strength of our industrial base, not on services and banks alone.
As regards industry and innovation, by 2020 the EU aims to:
strengthen its industrial base and promote transition to a low-carbon economy
promote innovation as a means to generate new sources of growth
encourage small businesses and promote an entrepreneurial culture
guarantee an EU-wide market for goods
contribute to the European presence in space.
Small businesses & entrepreneurship
Europe's 23 m small businesses (SMEs):
account for 99 % of businesses
provide 67 % of jobs
create 85 % of all new jobs.
EU policy is designed to improve the business environment, promote a climate of entrepreneurship and job creation. and give small businesses easier access to finance and markets .
Europe has unexploited entrepreneurial potential. Although 38 % of Europeans say they would like to be their own boss, only 10 % are self-employed. The EU is working to increase this percentage, to generate jobs and rejuvenate the economic base.
Reference: European Union website.
December 2016
Holland Logistics Library – Prolimax
The Holland Logistics Library is a unique collaboration of governments, knowledge institutes and companies / commercial organizations working together to boost the Dutch logistics sector. Their common goal is to be the best logistics country in the world by 2020 which results in being the best business location in Europe, having the best supply chain control and being a gateway to Europe and the World.
European Support Services
Partner with Prolimax in support of your EMEA growth strategy, taking advantage of our local knowledge and expertise. Review our brochure in the Library:
https://www.hollandlogisticslibrary.com/outbound/resource/supply-chain-as-a-service
October 2016
Prolimax ITAD Services
Prolimax provides IT asset disposition (ITAD) service enabling our clients to dispose of obsolete or redundant equipment in a safe and ecologically responsible manner. As part of our service we deploy Blancco Data Erasure software.
By utilising Blancco software, we ensure all data from your IT Assets are securely and completely destroyed prior to remarketing or recycling. Data erased by Blancco is permanently deleted and cannot be recovered.
This in turn allows the IT Asset to be safely remarketed without any risk of retaining customer residual data, protecting against fraud and loss of sensitive company information.
We use Blancco 5 for hard drives and Blancco Mobile 5 for mobility products. Blancco's software is certified in both Europe and the US by independent test and evaluation institutions and meets the demands of leading data wiping standards on the market today.
Our solution for desktops, laptops, servers and storage environments, as well as mobility products, provides total peace of mind to our clients for the security of their data. A fully comprehensive post-erasure report provides proof of data deletion. These are digitally-signed detailed erasure reports enabled by enhanced hardware detection and contain extensive erasure information, including HDD details for seamless audit procedures.
Any hard disk drives or data bearing devices that cannot be successfully wiped or are not suitable for remarketing, are destroyed by shredding in a certified Recycling process. A 'Certificate of Destruction' is issued after every shredding process as proof that secure physical destruction of confidential material has been completed.
Prolimax data wiping service gives our customers peace of mind that their data has been securely erased. We are able to provide data erasure services for all types and quantities of devices, on site at our client's premises or at our processing facility in Nijmegen, the Netherlands.
September 2016
Prolimax Global Infrastructure
Prolimax, a Supply chain services company, has partnered with GEFCO Forwarding Netherlands B.V. (Part of the GEFCO Group) so that all our customers have access to a full suite of activities in a "One Stop Shop Solution" global infrastructure model.
Our infrastructure is designed to offer a complete solution for full supply chain and asset management activities to Partners. Through our value add services we have the proven capability to deliver business performance, operational metrics, customer satisfaction and asset value. Our approach is to work closely with our customers to strategically manage all their supply chain needs, via one partner, and help grow the global business opportunity into the future.
Core Competencies:
Manufacturing, System Integration, Imaging, Test
Procurement, Inventory Management, Order Fulfillment, Distribution
Apple IOS & Android Services
Forward & Reverse Logistics, Warehousing
Global Air, Ocean, Road Freight
Customs, VAT, Import & Export Services, Fiscal Representation
Data Erasure, RMA processing, Reporting